Investment Commentary – July 1, 2019
Year to Date Market Indices as of Market Close July 1, 2019
Dow 26,717 (13.81%)
S&P 2,964 (16.38%)
NASDA 8,091 (18.83%)
Gold $1386 (7.92%)
OIL $57.92 (28.84%)
Barclay Bond Aggregate (6.11%)
All World Index (14.88%)
U.S. Stocks Hit Record on Trade Truce; Bonds Drop: Markets Wrap
U.S. stocks rallied to all-time highs after a trade truce with China, though finished well of highs of the day as measures of manufacturing activity showed growth slowing in the world's largest economy. Treasuries fell with gold
The S&P 500 ended at a record for the first time in 10 days, led by a surge in chipmakers after President Donald Trump agreed to ease a ban on American companies supplying Chinese tech giant Huawei. The Nasdaq 100 hit a two-month high. Industrial shares underperformed, as a U.S. manufacturing gauge showed orders stalled last month.
"The rally on this news will probably be short-lived and then we'll go back to worrying about very weak growth data," Ed Campbell, portfolio manager and managing director at QMA, said in an interview.
The U.S. data came after a series of weak factory reports from major economies around world reaffirmed speculation that global central banks will remain on track with easier monetary policy. The 10-year Treasury yield climbed even as futures traders still priced in almost 75 basis points of rate cuts this year by the Federal Reserve. Gold slid 1.4%.
Crude advanced toward $60 a barrel, after major producers agreed to extend output cuts. Stocks in Shanghai and Tokyo led Asian gains, while markets in Hong Kong were closed for a holiday as a new wave of unrest hit the city.
Traders seem cautiously optimistic in the wake of the G-20 gathering, though the move to delay further tariffs and resume talks doesn't offer much clarity on the critical issues. Investors have also been assessing global growth as a series of major purchasing manager readings on Monday morning showed declines. U.S. factory data are also due today.
In Europe, the euro trimmed a decline and European bonds were mixed as data showed manufacturers in the region remained firmly stuck in a slump last month, and as leaders failed again to agree who will fill key European Union roles, including the presidency of the central bank. Italian bonds surged, reflecting optimism that the European Commission won't penalize the nation this summer over its budget deficit. The pound weakened as a U.K. factory gauge contracted.
Elsewhere, the lira rallied after Trump indicated he may reassess his threats to sanction Turkey if it goes ahead with a Russian missile purchase. Swiss stocks rose as much as 1.3% as never-before-tested provisions to safeguard liquidity kicked in following a showdown with the European Union. Gold dropped the most in a year.
When do markets close for the Fourth of July?
U.S. financial markets will be closed in observance of Independence Day but back to normal hours on Friday
Major U.S. exchanges will close early on Wednesday and be closed on Thursday in observance of Independence Day.
But it will be back to normal hours on Friday, even if staffing (and trading) is expected to be light.
The New York Stock Exchange and Nasdaq will both close at 1 p.m. Eastern Time on Wednesday and remain closed on Thursday for the Fourth of July holiday.
Some CME Globex futures and options, including U.S. equity futures ESU19, +0.81% and bitcoin BTCUSD, +0.06% futures, will close early on Wednesday afternoon as well, while markets commodities such as crude oil CLQ19, +1.23% and gold GCQ19, -1.89% will remain open until 5 p.m., before closing for the holiday.
Markets for government bonds TMUBMUSD10Y, +1.03% and other fixed-income securities will also close early on Wednesday, at 2 p.m. Eastern, and will remain closed over the holiday, per the recommendation of the Securities Industry and Financial Markets Association.
Around the Web:
Jobs ahead: The most closely watched economic report in the holiday-shortened week is likely to be Friday's labor market release, which is expected to show that the pace of jobs growth in June picked up from May's lower-than-expected figure of 75,000. On average, economists expect the economy generated around 170,000 jobs in June
Midyear checkup: June's results extended a strong run through the first six months of 2019, maintaining the momentum from a record-length bull market that's more than a decade old. The S&P 500's total return through Friday was nearly 19%, the Dow's gain was more than 15%, and the NASDAQ was up more than 21%.
V-shaped recovery: June's strongly positive results for stocks marked a sharp reversal from May, as the major indexes' June gains were roughly equal in magnitude to the previous month's losses. The S&P 500, the Dow, and the NASDAQ all gained around 7% on a price basis; it was the best June since 1955 for the S&P 500, and the best since 1938 for the Dow.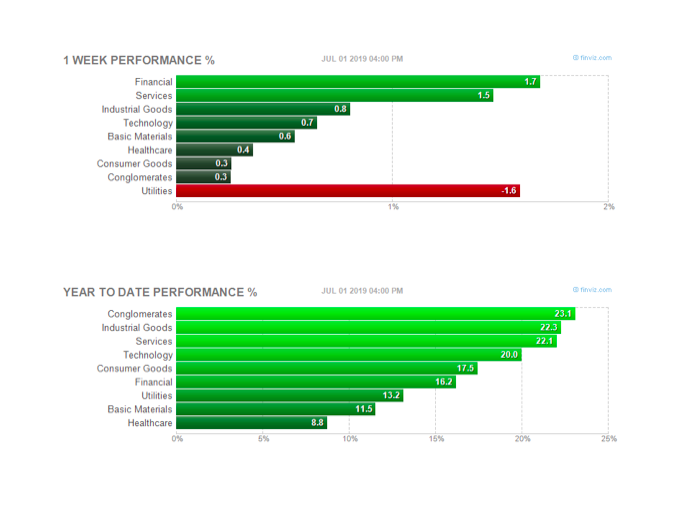 Other Notable Indices (YTD)
Russell 2000 (small caps) 16.98
EAFE International 14.03
Emerging Markets 9.22
The views presented are not intended to be relied on as a forecast, research or investment advice and are the opinions of the sources cited and are subject to change based on subsequent developments. They are not a recommendation, offer or solicitation to buy or sell any securities or to adopt any investments.
https://www.bloomberg.com/news/articles/2019-06-30/yuan-climbs-dollar-dips-on-trade-truce-yen-falls-markets-wrap?srnd=premium
https://www.marketwatch.com/story/which-markets-are-closed-for-july-4th-independence-day-2019-07-01?mod=markets&mod=mw_theo_homepage
https://finance.yahoo.com/news/yuan-climbs-dollar-dips-trade-212127628.html