Investment Commentary – October 29, 2019
Year to Date Market Indices as of Market Close October 29, 2019
• Dow 27,071 (16.05%)
• S&P 3,036 (21.14%)
• NASDAQ 8,276 (24.74%)
• Gold $1,489 (15.97%)
• Oil $55.50 (21.15%)
• Barclay Bond Aggregate (7.96%)
• All World Index (17.20%)
• Fed Funds Rate 2.00 (-0.25 rate cut 9/18/19)
• US Real GDP Growth 2.0 Q2/2019 (Down from 3.1 in Q1)
Here's how the stock market tends to perform after the Fed cuts interest rates 3 times in a row
Wall Street is bracing for what seems almost assuredly to be a third interest rate cut in as many meetings of the Federal Reserve on Wednesday afternoon.
And although there may be some trepidation about policy makers delivering another dose of monetary easing to a stock market that is at or near records, history shows that the market tends to extend its gains after three successive interest-rate cuts of a quarter percentage point, according to data from LPL Financial (see chart below).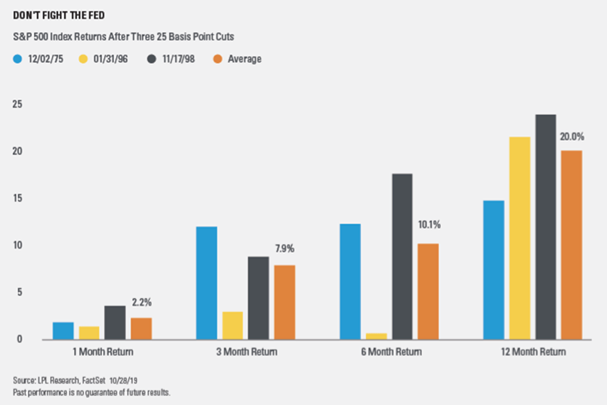 How good have returns been in those periods in which the Fed has delivered a trio of interest rate cuts of 25 basis points ? They have been spectacular in the 6-and-12 month period following those decisions by the rate-setting Federal Open Market Committee.
LPL data show that the S&P 500 index SPX, -0.08% has been up 10% a half-year later and 20% a year out, gauged by three initial 25 basis point cuts in 1975, 1996, and 1998.
That may be hard to fathom considering the loftiness of equity gains this year. So far, the S&P 500 index is up 21.3% in the year to date, the Dow Jones Industrial Average DJIA, -0.07% is up 16.14%, while the Nasdaq Composite Index COMP, -0.59% has advanced nearly 25% over the past 10 months.
"We've seen periods of economic slowdowns that had three consecutive 25 basis point cuts, most recently in the mid- and late 1990s," said LPL's senior market strategist Ryan Detrick. "The good news is the economy accelerated after the slowdowns and stocks did quite as well." he said.
S&P 500 retreats from record high; Google miss weighs on tech shares
U.S. stocks ended lower Tuesday, a day after the S&P 500 index scored a record close, as investors kept their attention on a stream of corporate earnings and awaited the outcome of a Federal Reserve meeting that's expected to deliver another interest rate cut on Wednesday.
What did the major benchmarks do?
The Dow Jones Industrial Average DJIA, -0.07% fell 19.3 points, or 0.1%, at 27,071.42, while the S&P 500 index SPX, -0.08% fell 2.53 points, or 0.1%, to 3,036.89, after it notched an all-time intraday high just shy of 3,047.73. The Nasdaq Composite Index COMP, -0.59% retreated 49.13 points, or 0.6%, at 8,276.85.
The S&P 500 ended in record territory for the first time in three months on Monday, with the large-cap index rising 16.87 points, or 0.6%, to close at a record 3,039.42, taking out the previous all-time closing high of 3,025.86 set on July 26. Other major indexes weren't far behind, with the Dow ending just 1% from its record close set on July 15 and the Nasdaq Composite finishing just shy of its record close of 8,330.21 set on July 26.
What drove the market?
Investors parsed another round of corporate earnings reports Tuesday with the health sector and finance sector providing some support, but technology shares weighed on the indexes.
Around the web
Fed ahead: The U.S. Federal Reserve is widely expected to cut interest rates for the third time in three months when it concludes a two-day meeting on Wednesday. Fed statements will be closely watched for any indications as to whether the latest reduction is likely to be the last one for this year or whether another cut could come at the Fed's December meeting.
Flirting with records: The S&P 500's rise over the past three weeks moved the index on Friday to a level that was just one-tenth of a percentage point below the record high that it set three months earlier. The Dow and the NASDAQ had a little further to go, as both indexes were around 1% shy of their records.
Earnings catalyst: While quarterly profits are expected to decline this earnings season, a large proportion of the 40% of companies that had reported as of Friday had surpassed analysts' expectations, providing some lift for stocks. About 80% of the S&P 500 companies that had reported third-quarter results exceeded earnings expectations, according to FactSet.
Upcoming Events:
Wednesday: U.S. Federal Reserve Board concludes two-day policy meeting, Chairman Jerome Powell holds press conference
The views presented are not intended to be relied on as a forecast, research or investment advice and are the opinions of the sources cited and are subject to change based on subsequent developments. They are not a recommendation, offer or solicitation to buy or sell any securities or to adopt any investments.
https://www.marketwatch.com/story/heres-how-the-stock-market-tends-to-perform-after-the-fed-cuts-interest-rates-3-times-in-a-row-2019-10-29?mod=home-page
Chart Image Address: https://ei.marketwatch.com/Multimedia/2019/10/29/Photos/NS/MW-HU231_lpl_sp_20191029135301_NS.png?uuid=f3627e94-fa74-11e9-99af-9c8e992d421e
https://www.marketwatch.com/story/stock-index-futures-edge-lower-after-sp-500-notches-record-2019-10-29?mod=markets
https://www.marketwatch.com/story/stock-index-futures-edge-lower-after-sp-500-notches-record-2019-10-29?mod=markets