Investment Commentary – March 15, 2023
Year to Date Market Indices as of March 15, 2023
• Dow 31,721 (-4.63%)
• S&P 3,867 (0.42%)
• NASDAQ 11,310 (7.91%)
• OIL $68.39 (-15.35%)
• Barclay Bond Aggregate (1.35%)
• Gold 1,930 (4.54%)
Inflation gauge increased 0.4% in February, as expected and up 6% from a year ago
POINTS
The consumer price index rose 0.4% in February and 6% from a year ago, in line with market expectations.
A drop in energy prices helped keep inflation in check, while shelter costs increased sharply.
The probability that the Fed would raise benchmark interest rates a quarter percentage point next week increased following the report.
Inflation rose in February but was in line with expectations, likely keeping the Federal Reserve on track for another interest rate hike next week despite recent banking industry turmoil.
The consumer price index increased 0.4% for the month, putting the annual inflation rate at 6%, the Labor Department reported Tuesday. Both readings were exactly in line with Dow Jones estimates.
Excluding volatile food and energy prices, core CPI rose 0.5% in February and 5.5% on a 12-month basis. The monthly reading was slightly ahead of the 0.4% estimate, but the annual level was in line.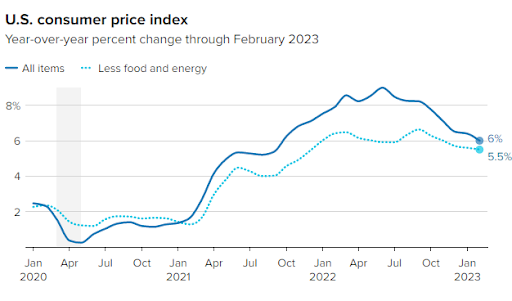 Stocks gained following the release, with the Dow Jones Industrial Average up more than 300 points in early trading. Treasury yields, which plummeted Monday amid fears over the banking industry's health, rebounded solidly, pushing the policy-sensitive 2-year note up 30 basis points to 4.33%.
Heading into the release, markets had widely expected the Fed to approve another 0.25 percentage point increase to its benchmark federal funds rate. That probability rose following the CPI report, with traders now pricing in about an 85% chance that the Fed will hike the rate by a quarter point, according to a CME Group estimate.
"Even amid current banking scares, the Fed will still prioritize price stability over growth and likely hike rates by 0.25% at the upcoming meeting," said Jeffrey Roach, chief U.S. economist at LPL Financial.
A decrease in energy costs helped keep the headline CPI reading in check. The sector fell 0.6% for the month, bringing the year-over-year increase down to 5.2%. A 7.9% decline in fuel oil prices was the biggest mover for energy.
Food prices rose 0.4% and 9.5%, respectively. Meat, poultry, fish and egg prices fell 0.1% for the month, the first time that index has retreated since December 2021. Eggs in particular tumbled 6.7%, though they were still up 55.4% from a year ago.
Market-moving news
Price check ahead: A Consumer Price Index report scheduled to be released on Tuesday will show whether recent troubling trends on inflation extended into February. The latest report covering January showed that the government's Consumer Price Index fell less than expected to an annual rate of 6.4%, fueling concern that there's no immediate end in sight to further interest-rate increases.
Bumpy ride: A regulatory shutdown of a California-based commercial bank that focuses on lending to technology companies triggered a surge in volatility that hit bank stocks and extended to the broader market as well, especially small caps. The Cboe Volatility Index, which measures investors' expectations of short-term U.S. stock market volatility, surged 29% over the course of Thursday and Friday.
Jobs machine: A monthly gain of 311,000 U.S. jobs that was reported on Friday couldn't match the surge of more than 500,000 positions added in January, but the latest result again exceeded most economists' expectations. The government also reported that wages rose at a moderate 0.2% in February relative to January, which could ease inflationary pressures.
The views presented are not intended to be relied on as a forecast, research or investment advice and are the opinions of the sources cited and are subject to change based on subsequent developments. They are not a recommendation, offer or solicitation to buy or sell any securities or to adopt any investments.
https://www.marketwatch.com/ (Market Indices)
https://www.jhinvestments.com/weekly-market-recap (Around the Web & Upcoming Events)
https://finviz.com/groups.ashx (YTD Performance Chart)
https://www.cnbc.com/2023/03/14/cpi-inflation-february-2023-.html